More fun than a Disk Jockey!
We are eager to help you and your family and friends have a great event.

We are all mature, seasoned professionals. We are not there to be stars.

We are there to make it easy for you and your family & friends to relax and have a good time.

Size and volume that are appropriate...
We fit easily on almost any stage, with a sound system sized right for the room.

We provide plenty of energy, but we won't "take over" by being way too loud.

We'll "break the ice"...
We encourage requests, and we are skilled enough to play them well,

(sometimes even when we don't know the tune exactly!).

We like to keep everybody involved and having FUN.

Lots of experience and skill...
We've been together since 1992. Some of us have been playing since 1970.

We've been doing this a long time, so we know what works best.

We've played upscale hotels, country clubs, riverboats, church basements, union halls, VFW's, American Legions, garage roof patios & backyards.
Reasonably priced...
We generally get $1200-1500 for the dance, depending on complexity and formality. That would include 3 hours of music with a couple breaks, and we would have an iPod to play mood music during dinner. Sometimes we play longer. Sometimes we disccount for a variety of reasons. We try to stay within about 100 miles of the Minneapolis St Paul metro area.

Live music during dinner would add about $250.

Live music for the ceremony would add another $400, including a local rehearsal the night before.
Lots of satisfied customers...
 
"We had the Percolators play for both my sons' wedding dances. I hope the band is still around when my daughter grows up!"
--Mike Frankenberg, father of 2 grooms
 
"We wanted everything perfect. Thanks for the good music! The Percolators were a great part of a magic night we will remember."
--Jayne Kolstad, bride
 
"I've recommended the Percolators to several people. I've gotten only good reports. And the guys are so nice!"
--Maureen Olson, American Legion Manager
 
Click the "Contact Us" button and let us tell you more by e-mail!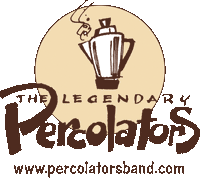 To hear our sound while you explore,
click player in black stripe, bottom of screen, left end.

Planning a party or event? Need a band?
Call or text Hans today. 612-723-5038
Or email Hans at: hansgast@comcast.net