For your wedding dance (or your bar/restaurant)
The Legendary Percolators Live Band is a variety band playing in the Twin Cities of Minneapolis and St. Paul Minnesota and surrounding metro area.
We play rock, country, blues, r&b, lots of pretty ballads, an occasional waltz or a polka, and we sing nice harmonies.
We play for parties & events both public and private, indoor and outdoor.
We play wedding dances. (we travel about 100 miles one way)
We play bars (including VFW's and Legion clubs).
We're glad you're thinking about coming out to hear us. If you're planning a party or event, we hope we can work with you!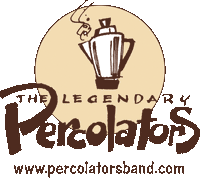 To hear our sound while you explore,
click player in black stripe, bottom of screen, left end.

Planning a party or event? Need a band?
Call or text Hans today. 612-723-5038
Or email Hans at: hansgast@comcast.net